Welcome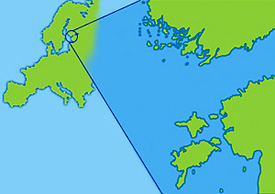 To the core area of the Baltic Sea, to Turku Archipelago and western Estonia!
Turku Archipelago with thousands of islands and islets is unique in the world. Handsome bridges, spacious ferries and service boats connect islands to each other. The archipelago entrepreneurs arrange programmes throughout the year.
Characteristic of the Estonian coast line are long shallow beaches, attractive juniper moors and picturesque steeps. Big islands of the western Estonia are connected to mainland with ferries; holiday villages, hotels and famous spas of this area welcome the visitors.
Many high standard guest harbours can be found in this core area of the Baltic Sea, so it´s easy for you to travel by boat or yacht. You also can rent one – together with captain, or without.